Our research instruments are designed to assist you in finding highly valuable and rare biological variants among vast cell populations. By increasing speed and reducing cost, our picodroplet technology can help you save resources whilst boosting your chances of success.
Unlike our industrial instruments, our research instruments are semi-automated rather than fully automated. While this means they require slightly more user input to configure, it also means that they are more flexible and can be easily adapted to fit the needs of your unique research project.
We currently have two research instruments that enable you to generate, isolate, and dispense picodroplets for a range of applications. These are the Picodroplet Single Cell Encapsulation System and the Picodroplet Single Cell Assay and Isolation System. Both are compatible with our range of specialist chemicals and biochips.
Some common research areas where our instruments have been used previously include biopharmaceutical discovery, bioprocessing, diagnostics, drug-resistance studies, enzyme evolution and synthetic biology.
Scroll down for more information on our instruments, or alternatively, contact one of our experts to discuss your needs.
Picodroplet Single Cell Encapsulation System
Our semi-automated system encapsulates single cells or biomolecules into picodroplets, ready for downstream screening and analysis. It does this at a rapid rate of up to 70,000 picodroplets per second, and the flow rate can be highly controlled. The instrument enables rapid and very sensitive detection of secreted or cell-associated proteins produced by an individual cell, contained in each picodroplet.
The encapsulation system doesn't affect cell viability, while the wide range of picodroplet sizes and volumes gives it flexibility for use with various cell types – large or small. These picodroplets can be stabilised using novel surfactants and cells can be grown in them, and even incubated or stored for many days.
Download the Picodroplet Single Cell Encapsulation System information leaflet to learn more: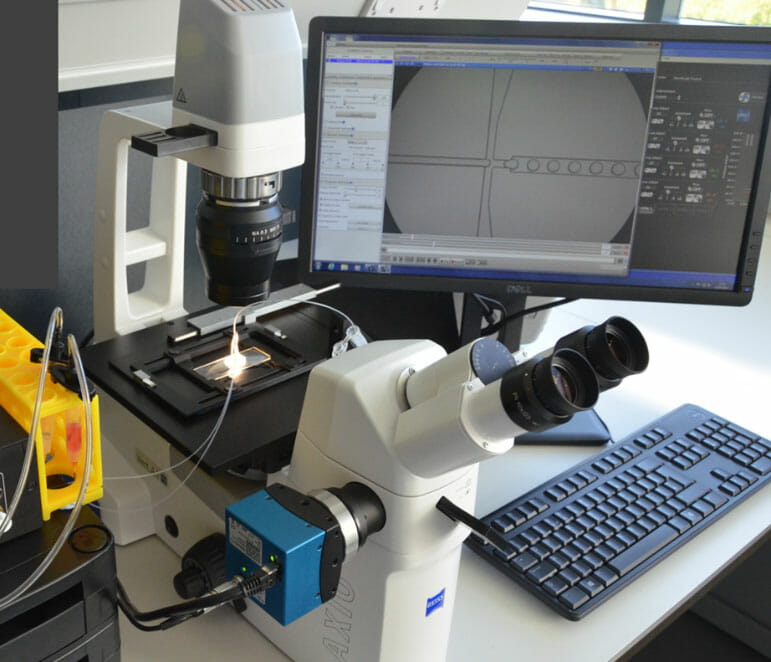 Picodroplet Single Cell Assay and Isolation System
Once the cells have been encapsulated in picodroplets, this semi-automated system is able to process, sort and isolate them for easy analysis. We know how time-consuming single cell analysis can be, and that's why our system is capable of processing picodroplets at a rate of up to 12,000 per minute – giving you more time to spend analysing your data rather than on preparing and processing your samples.
The system supports a range of picodroplet sizes and volumes, and the flow rate can be controlled. It's also equipped with various optical detection methods (e.g. absorbance, scatter, fluorescence) to make it suitable for a range of research applications.   
Download the Picodroplet Single Cell Assay and Isolation System information leaflet to learn more: