Careers at Sphere Fluidics
Here at Sphere Fluidics, our aim is to combine expertise and exciting technology to help our customers reach their goals faster and more cost-effectively. None of this would be possible without our team – it's their knowledge, commitment and enthusiasm that makes us who we are.
We recognise this, and in return, offer a supportive environment that encourages employees to learn and develop. Since we are a forward-thinking company operating in a rapidly-growing industry, we help individual staff members develop and progress in their careers. We offer our employees exciting projects, excellent training, and an attractive compensation package including employee share options, a Workplace Pension Scheme, life insurance and performance-related annual salary increases.
We strongly believe that collaboration drives innovation, and as such, our goal is to build teams of people with a shared passion for integrating cell biology, microfluidics and leading-edge engineering into innovative solutions.
If you think this sounds like you, then please see below for current job opportunities.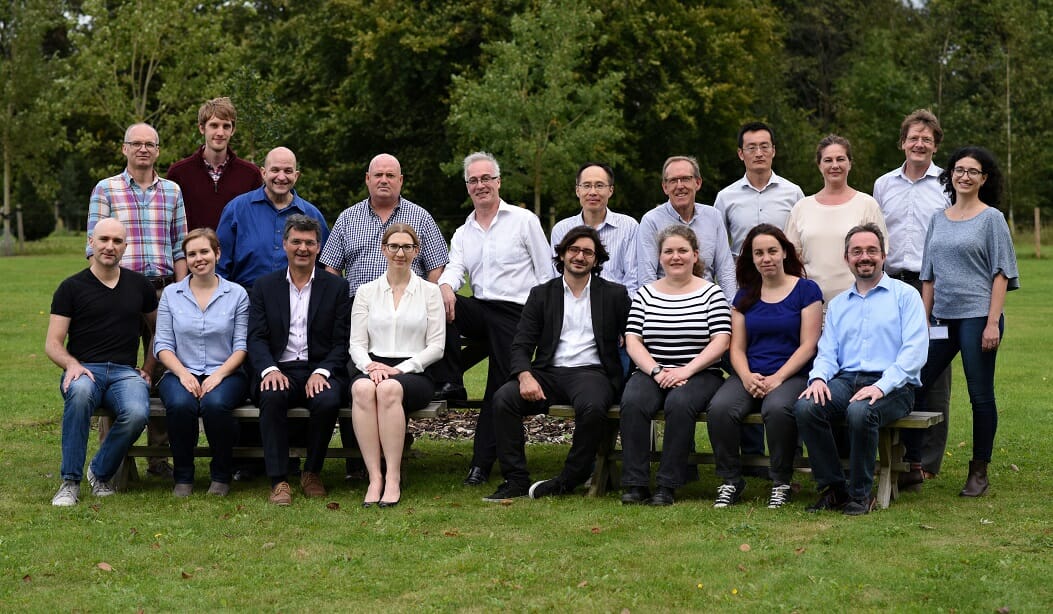 Current Employment Opportunities at Sphere Fluidics
Scientist – Chemistry
Sphere Fluidics Limited is a rapidly growing Life Sciences company based in Cambridge, UK. The company is developing innovative engineering solutions and chemistries for use in novel microfluidic-based instruments for single cell characterization and selection. The R&D team is now looking to recruit a Scientist into our Chemistry Group. The successful candidate will work in a multi-disciplinary team on a range of exciting and leading-edge projects with external global companies.
Key duties include:
Production of the company's key specialist chemical products;
Production of the company's key microfluidic biochip products;
Conducting QA/QC to assure the company products meet and/or exceed the set quality standards;
Maintaining stable supply chain of critical materials for production;
Maintaining appropriate stock of the company's chemical products;
Maintaining production tracking records and documentation to meet ISO 9001 requirements;
Shipping the company's products to customers;
Complying with the company's set safety standards and policies;
Developing new chemicals and novel microfluidic biochips;
Interaction with existing collaborators on approved R&D projects;
Generation and/or input to new publications and patents.
Required qualifications, skills and experience:
MSc or PhD in organic chemistry, and proven working experience in a chemistry laboratory environment;
Practical experience and knowledge of a wide range of synthetic chemistry reactions and techniques;
Past experience in chemical production and quality management is highly desirable;
Experience in the development and scale-up of chemical processes to large scale labs and pilot processes is favourable;
Experience in working closely with customers is of added value in this position;
Excellent communication skills is essential;
The ability to work both independently and collaboratively is highly desirable;
Soft-lithography fabrication and microfluidics development experience are advantages;
Mass Spectrometry experience is an advantage.
Salary range:  £24,000 – £32,000
Closing date for applications: Friday 27th July 2018.
If interested, please e-mail your CV Human.Resources@spherefluidics.com and include the term "Scientist – Chemistry" in the title.
Job Title: Hardware Engineer / Senior Engineer
(Physics and Engineering Group)
Closing date for applications: 8th July 2018
Location of job: Cambridge
Sphere Fluidics Limited is an established Life Sciences company, which is developing new instrumentation systems for biological drug discovery. Due to company growth, we are now looking for a talented individual to join our Engineering team.
We are looking to recruit a hardware engineer / physicist with a proven experience in the development of complex instrumentation hardware. The candidate will have a relevant degree (e.g. BEng, PhD) or equivalent technical background (gained through working in industry) in engineering, physics or a related area. Experience in design, construction and testing of mechanical, optical and electronic systems is essential. The candidate should have proven technical ability and be able to demonstrate direct hands-on approach to problem solving. Self-motivation and a drive towards continual personal and technical improvement is essential. Previous experience working in an R&D environment through to product launch is desirable, though not essential. Previous experience with microfluidics and associated technologies would be advantageous.
Salary range: £30,000-£45,000 per annum.
Qualifications:
Essential skills and experience:
1st or a 2.1 degree in engineering or physics from a leading university.
Postgraduate experience, either through relevant industrial experience gained while employed in a leading engineering company, or via a postgraduate degree (e.g. MSc, PhD) from a leading university.
Solid understanding of engineering fundamentals and physical principles.
A background in instrumentation design, construction and testing.
Hands-on experience with mechanical, electrical, optical and fluidic systems.
Competent CAD user (e.g. SolidWorks).
Proven ability to innovate, build, test & troubleshoot.
Ability to work in a small team to fast timescales and with strict attention to detail.
Ability to plan your workload and exercise good time management, juggling priorities across more than one project.
Flexible and self-motivated with a passion for developing new technologies.
Excellent problem-solving ability.
Excellent verbal, documentation and communications skills.
You will thrive in a multi-disciplinary environment working alongside other highly motivated experts in their fields.
Some aspects of the role are client facing. You will be required assist our service engineers and to discuss technical aspects of projects directly with clients – with clear communications and commercial awareness.
In addition, we will favour candidates with skills such as:
Experience interfacing software with sensors and actuators, including instrument control and data capture (e.g. C/C++, LabVIEW™, MATLAB).
Experience working with and maintaining complex life sciences instrumentation.
Microfluidics expertise.
Experience of working with toolmakers and manufacturers.
Experience in the design and implementation of test jigs and fixtures.
Experience of working within quality control systems such as ISO 9001.
The successful candidate will work in a multi-disciplinary team and should be enthusiastic with excellent team-working and communication skills. If interested, please e-mail your CV to Human.Resources@spherefluidics.com and include the title of your target position e.g. "Senior Engineer" in the title.
All Sphere Fluidics employees are given an employment package including: competitive salary; employee share options; life insurance and auto enrolled in to the Aviva Pension Scheme. Each employee is also encouraged to develop an annual development plan, including SMART objectives and training needs, as part of their career development. The position will be based in or around Cambridge, UK.
The closing date for applications for this position is 8th July 2018.